Deep Tissue Massage is a technique in which a firmer pressure is applied throughout the massage routine.  While many people think this technique is not as relaxing, it all depends on the experience of the massage therapist.  If the deep tissue massage is done just right, it will leave you feeling relaxed and also have your moving better.  Deep tissue massage will tend to decrease pain and increase your overall range of motion.  This is why several people are turning to enjoy a deep tissue massage to take care of their aches and pains.  The benefits of a deep tissue massage are far more beneficial then compared to a Swedish massage.  There are very few deep tissue massage side effects especially when massage is done by an experienced massage therapist.  An experienced therapist will find out all areas of the body that need to be worked on and can help you understand why your body accumulates pain and tension in certain areas.
 Deep Tissue Massage Techniques
There are a wide array of different techniques used by therapists around the world. Deep tissue massage therapy has been a favorite for health improvements listed above. While a deep tissue massage will vary from location to location, the core values of the massage should be the same.  The best type of facility to receive a massage is a place that has a therapist that has the ability to customize a massage. A customized massage is when a therapist truly can tell what area needs varying types of pressure. At Adisi Health Center our massage Hinsdale location is fully is capable of providing that custom massage experience.
What to Expect with a Deep Tissue Massage
Decrease in muscle tension
Increased range of motion
Decrease in pain
Overall increase in well being
Increased Recovery from Sports
Decrease in healing time
Swedish Massage vs Deep Tissue Massage
Swedish Massage is designed to promote relaxation and increase circulation
Deep Tissue is designed to decrease muscular tension and has a more therapeutic effect.
Swedish Massage is a very light force technique. There is absolutely no pain or discomfort felt.
Deep Tissue massage knots can be areas that are very tender and sore.  An experienced massage therapist will know how to minimize any discomfort.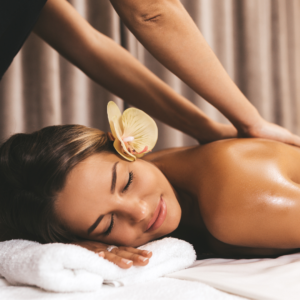 What our patients have to say...
"Dr. Petzel is great! The office has an awesome vibe. It's super clean and feels homey. He plays great music which helps to relax. Has all the equipment there to fit your needs. I trust his expertise which allows him to make the best judgment call for treatment. Makes me feel comfortable, communication is great and we have the best conversations! Love that he has free treats at the front desk. Covid safety protocols implemented. Would definitely recommend Dr. Petzel and this location!"
"Dr. Steve is a highly skilled chiropractor proficient in many techniques. I have referred a handful of patients to him and all have had such great results, improved posture and increased range of motion. I'd Definitely recommend him, 5* doctor!"
"I felt pampered in this upscale chiropractor's office. This was my first experience with a male massage therapist, and he was competent. I do not recall the exact name of the technique--it was something similar to lengthening--but it was wonderful! I would refer anyone to this facility."
534 Chestnut St. #240, Hinsdale IL 60521
630.887.1900